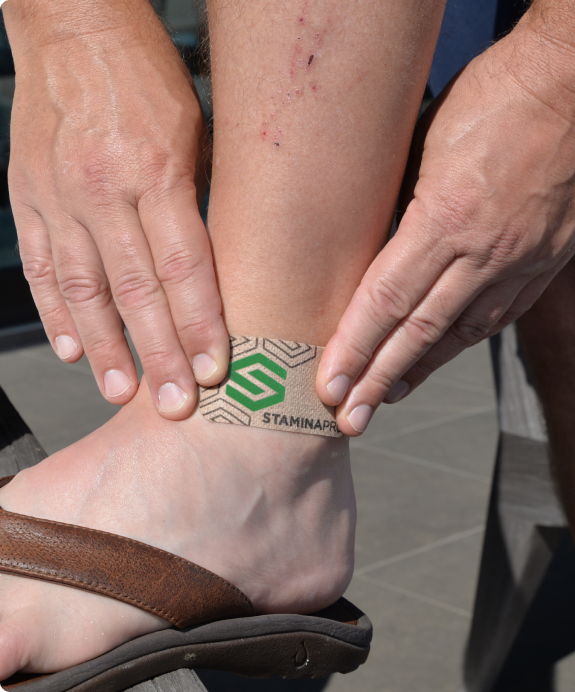 For PERFORMANCE apply the patches 15-30 minutes before you begin a physical activity, and continue to wear them throughout the duration of the activity. Use daily for optimal results.
For RECOVERY apply the patches immediately after activity and wear for up to 24 hours, upon which you will need to replace the patches with fresh set. Use daily for optimal results.
For ACUTE OR CHRONIC PAIN start with 2-3 patches to reset the inflammatory process (you may use more if necessary). Repeat daily for up to 10 days, then add or remove as you feel needed.
The patches can be worn anywhere on the body, but they are especially effective on: Arms, Lower Back, Elbows, Shoulders, Feet, Ankles, Hamstrings, and Mid-to-Upper Back.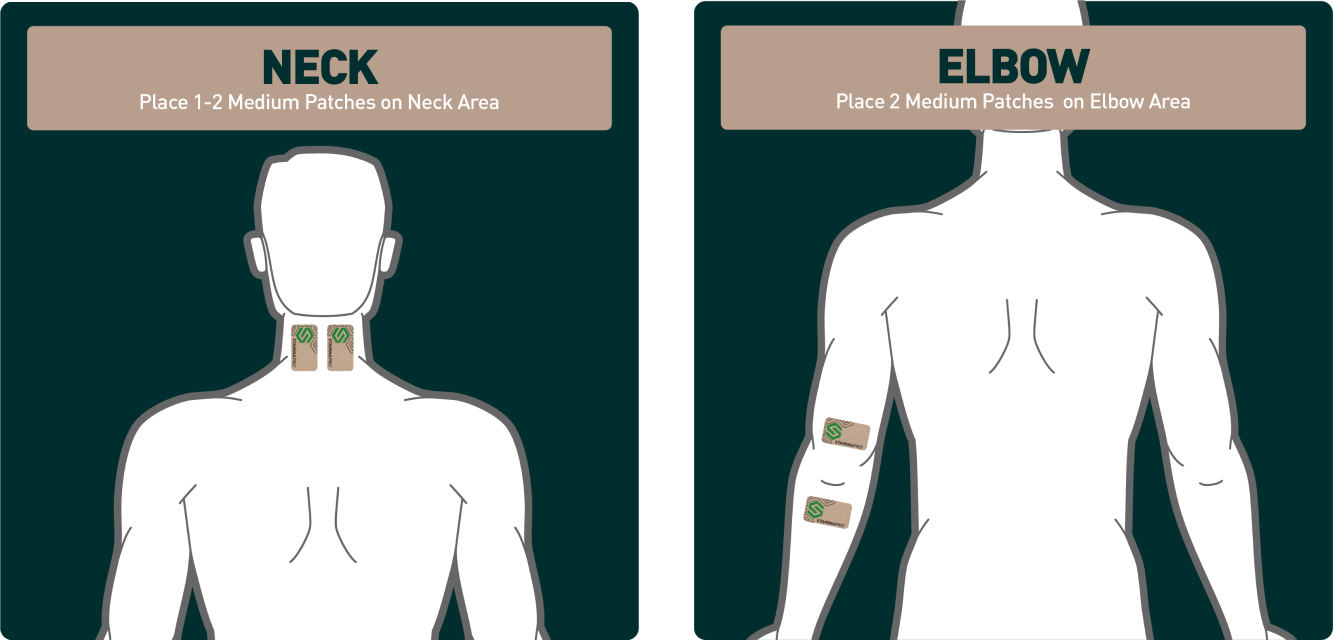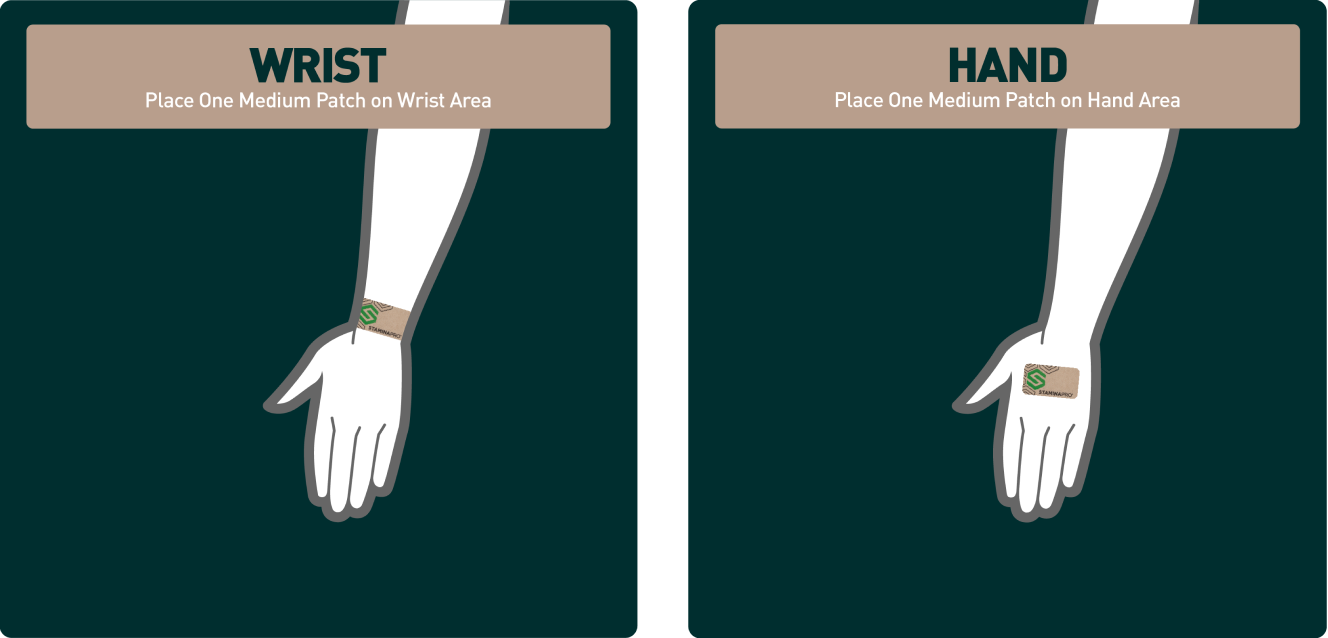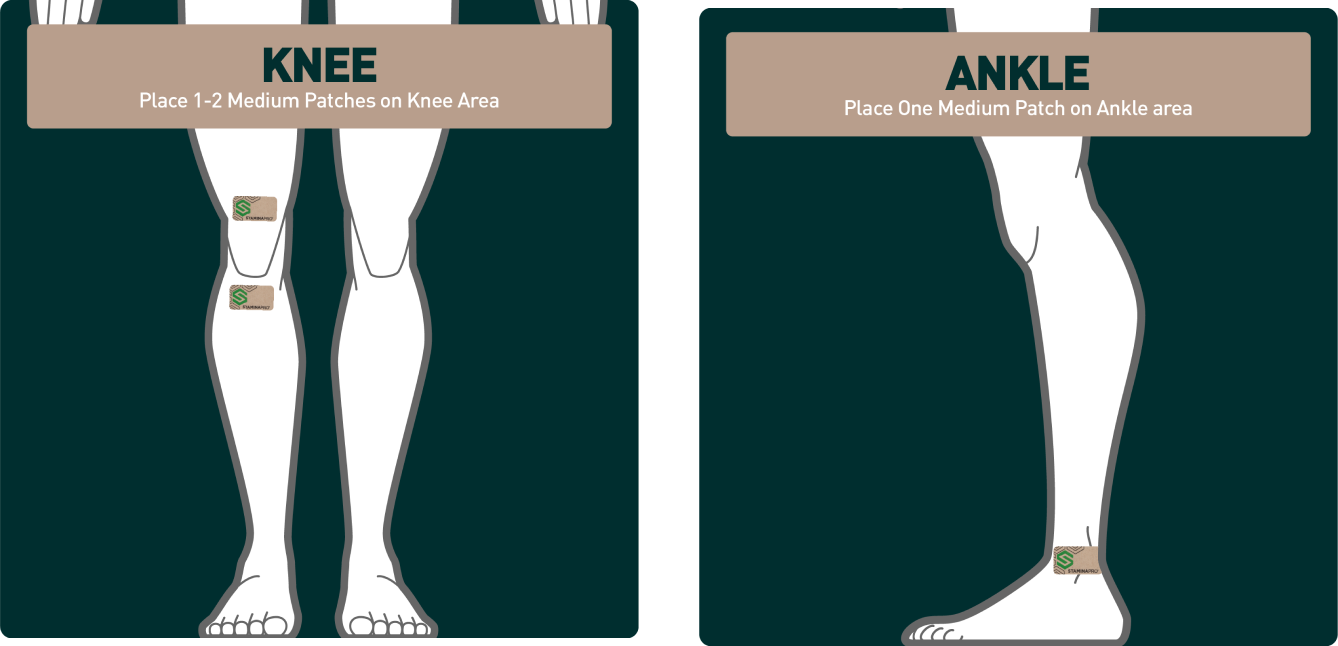 Muscle Fatigue
Muscle Tightness
Muscle Soreness
Strains & Sprains
Bruises & Swelling
Achy Joints
Muscle Cramps
General Pain & Discomfort
No

Chemicals

Faster

Recovery

Better

Recovery
Lasts 24 Hours

100% Natural

Water Resistant
A friend introduced me to the patches and I was very skeptical. I wore it for a round of golf on my hip and felt great. I also have an issue with my elbow and it takes the pain away. My daughter was having some back pain that the chiropractor could not work out, so I put a long patch on her and she felt way better. I will continue to wear these and I'm excited to try out the sleep patch. ~Chris

Great

These work wonderful, size is perfect, Give me some relief.

Very Versatile and Effective

I've found all three sizes of patches to work well in particular applications, but the medium patches are the most versatile for me. Fit well around my knees and lower back, and have even used on ankles and arches from time to time. Work great for me, and consistent use gives me greater relief over time.

Pain in my shoulders and back is gone.

Enjoy the patches for pain relief and for support of my knee.

I dont understand it, but they DO work!

I have to admit, when I first saw these and got a patch from a friend I was pretty skeptical. I wasnt sure what the science was behind them and to be honest Im still not 100% on it. What I am sure of though is that they work. I have had 4 knee surgeries (2 on each knee), and have almost no cartilage left. These patches help me to stay active and drastically reduce swelling whether Im playing hockey, snowboarding or hiking. I STRONGLY recommend giving them a chance. They might not make sense to you but it will shock you how it works.

These patches work great for my shoulder pain. I've tried PT and chiropractic but struggled to get through treatment. With the addition of these patches the pain is reduced enough to get through the exercises and to continue working in my profession that I love. I also like the fact that there are no chemical reactions or scent with them so they can be worn discreetly without giving attention to the fact I'd smell like a medicine cabinet. These are great for small areas. It's not really a medium size patch. The medium is small and the large is between what I'd consider a medium to large patch. What's nice is being able to wear multiple ones at once without concern of a reaction other than the skin can get irritated sometimes from continual wear.

Easy to apply and effective. Patches stay on even during intense exercise and sweating. Reduces pain and recover faster.