Stamina
pro

Clinical

Trials

As part of our ongoing research, we enlisted an independent, third-party clinical research study
on the pain relief and anti-inflammatory effects of STAMINAPRO patches.
The results of this study are summarized below.
---
Participants suffering from a variety of back pain conditions were treated with STAMINAPRO patches. The before
and after results were evaluated by two methods: via the Visual Analogue Scale (VAS) to measure pain, and via Digital Infrared Thermography to measure inflammation. Both are industry standard methods of analysis.
Figure 1 below shows cumulative VAS responses dropping from 70.00 to just above 40.00 within 45 minutes,
representing a nearly 40% reduction in pain on average. The VAS results correlate with a significant reduction
in inflammation as revealed by thermal imaging. Selected thermography can be seen in figure 2.
Clinically Proven

To Reduce Pain & Inflammation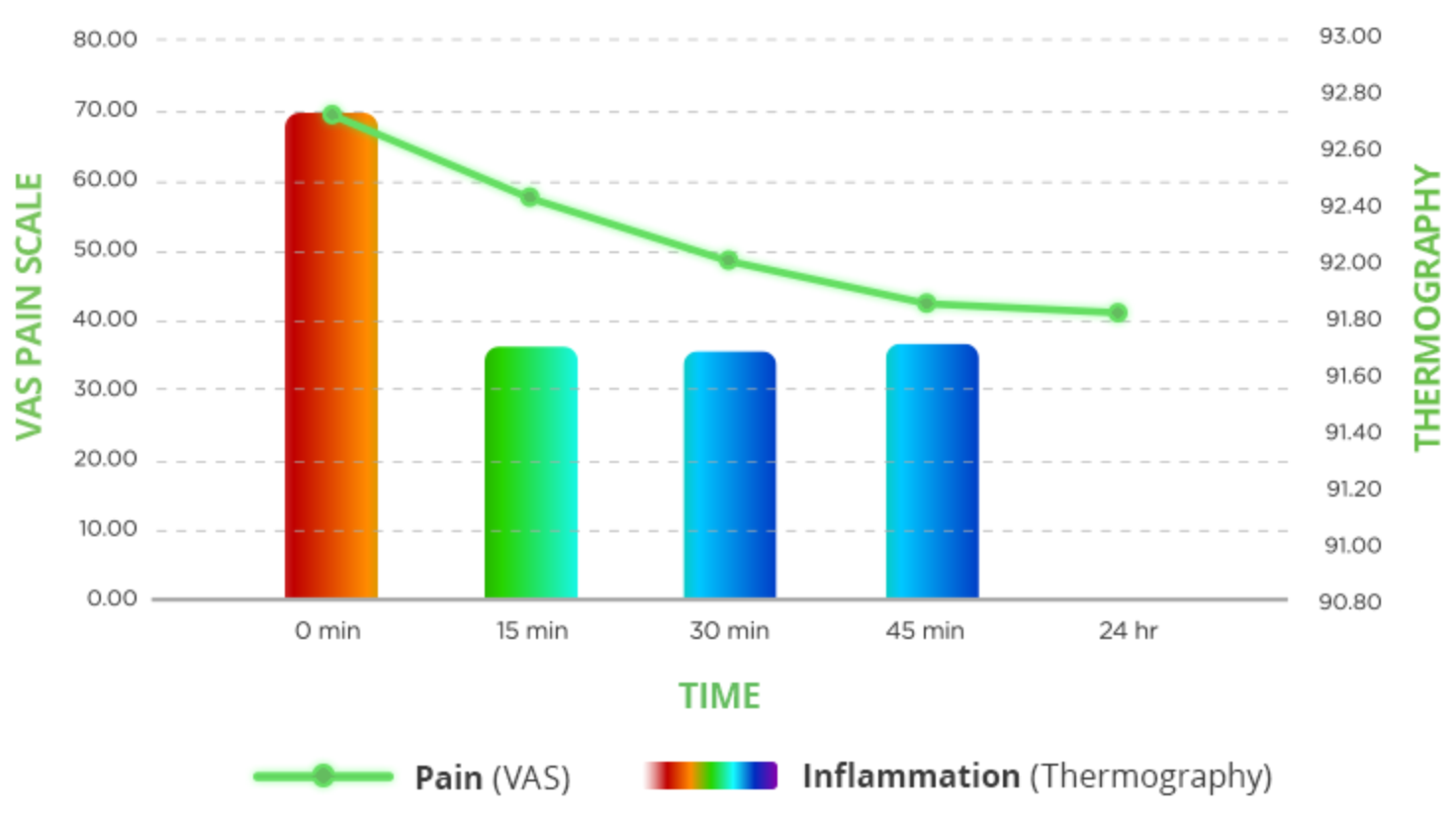 Digital Infrared Thermography is used to measure the impact of the patches on the body.
It uses a specially designed infrared camera to precisely measure skin temperature and create a digital map
to illustrate the body's physiological responses (the body's automatic reactions to a stimulus).
When high degrees of inflammation are present in the body, there is an increase in blood supply and skin temperature as indicated by the white and red "hot spots" seen in the image. Once the STAMINAPRO patches are applied to hot spot areas, a rapid and steady reduction in temperature and inflammation is observed. Notice how the white and red hot spots become smaller and shift to yellow, green and blue within minutes after the patches are applied.
STAMINAPRO Patches are devices listed with the FDA and manufactured in California in an establishment registered with the FDA. The patches are categorized as a Class I Medical Device and FDA regulated under §890.5710. Representations regarding the efficacy and safety of Luminas have not been evaluated by the Food and Drug Administration. These products are not intended to diagnose, prevent, treat, or cure any disease.
100% safe

for sport use at any competitive level Letter from Dr. Ara Suppiah on StaminaPro Safety and Compliance