For PERFORMANCE apply the patches 15-30 minutes before you begin a physical activity, and continue to wear them throughout the duration of the activity. Use daily for optimal results.
For RECOVERY apply the patches immediately after activity and wear for up to 24 hours, upon which you will need to replace the patches with fresh set. Use daily for optimal results.
For ACUTE OR CHRONIC PAIN start with 2-3 patches to reset the inflammatory process (you may use more if necessary). Repeat daily for up to 10 days, then add or remove as you feel needed.
The patches can be worn anywhere on the body, but they are especially effective on: Arms, Lower Back, Elbows, Shoulders, Feet, Ankles, Hamstrings, and Mid-to-Upper Back.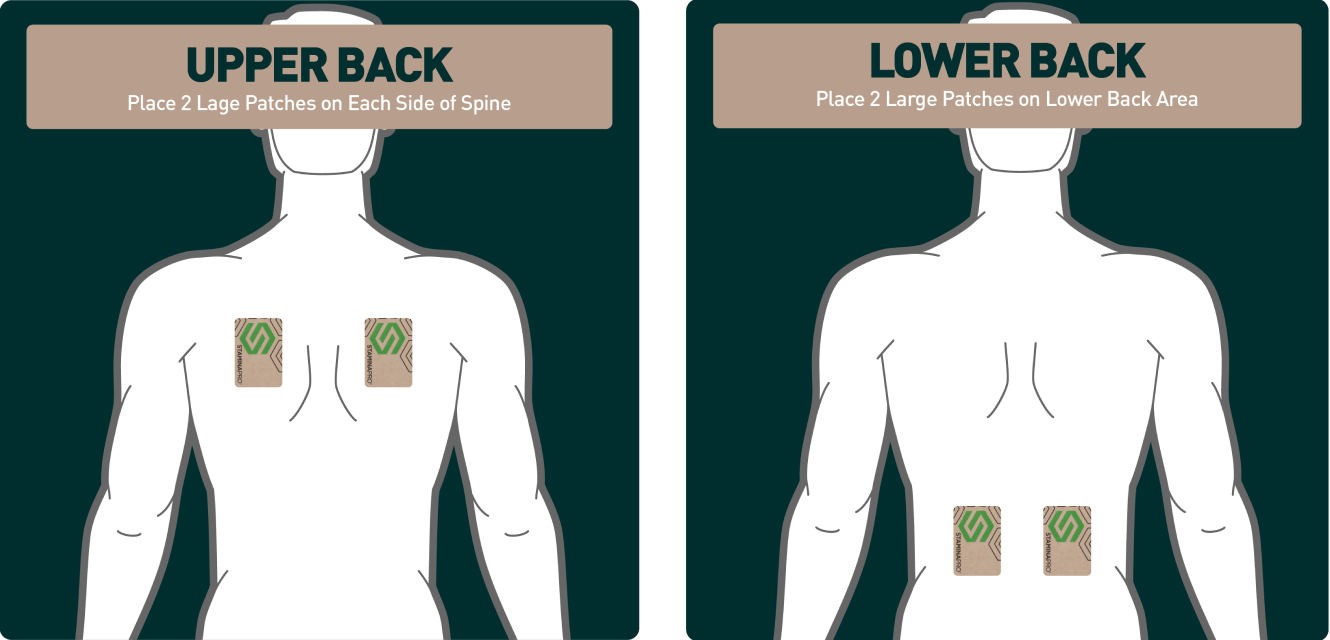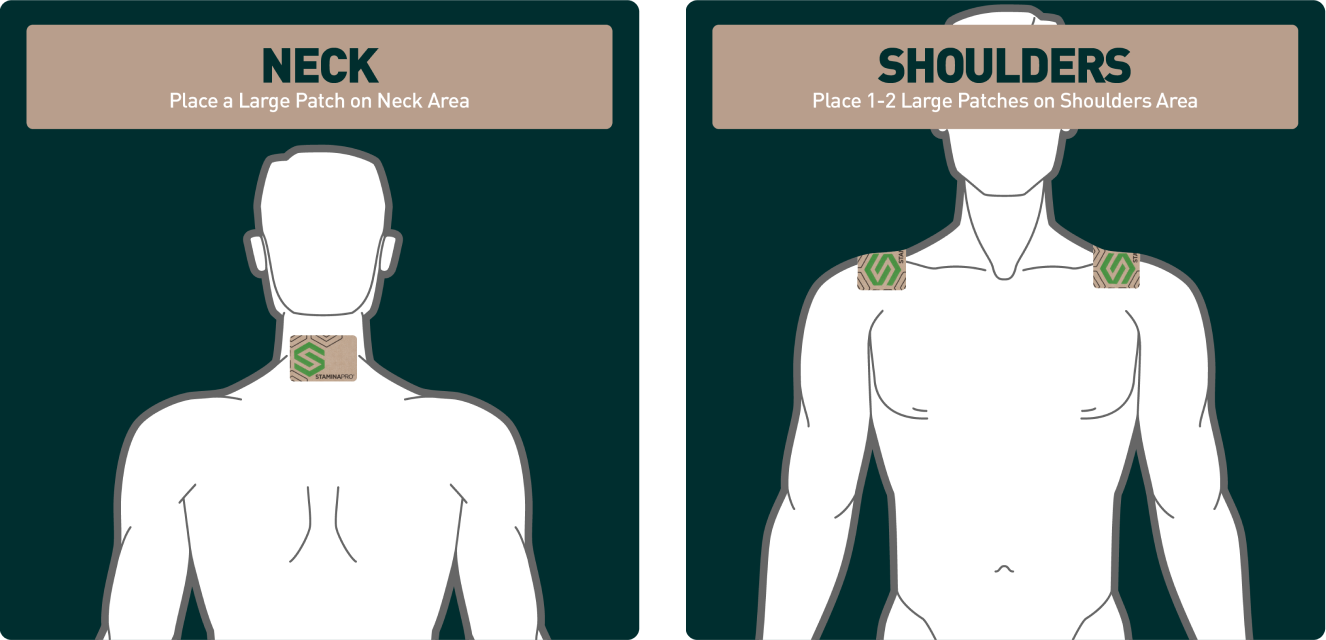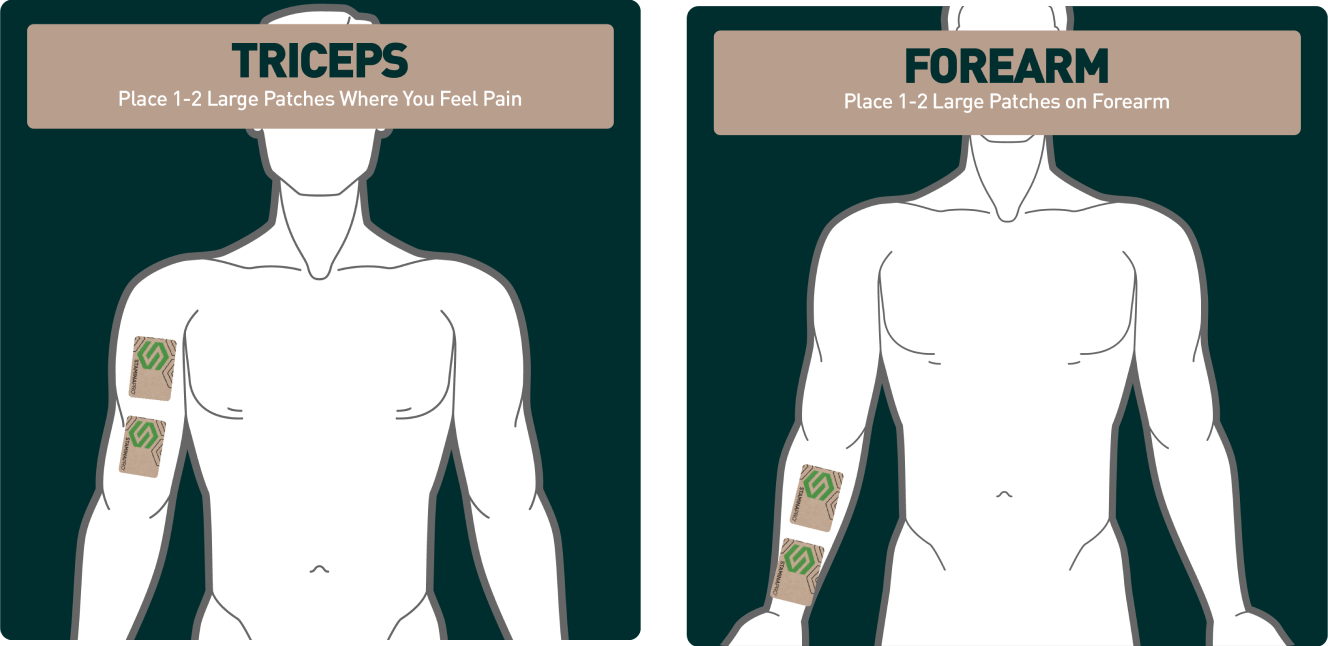 Muscle Fatigue
Muscle Tightness
Muscle Soreness
Strains & Sprains
Bruises & Swelling
Achy Joints
Muscle Cramps
General Pain & Discomfort
No

Chemicals

Faster

Recovery

Better

Recovery
Lasts 24 Hours

100% Natural

Water Resistant
I use these patches to relieve muscle pain so that I can get to sleep. I just put one over the sore spot, and relief is almost immediate. I highly recommend these patches!

As a fitness professional, I can't believe I don't see people wearing Staminapro patches all over the gym (yet). I have gifted these to clients, my grandparents for their arthritis pain, and I keep a medium and large stash on auto replenish. THANK YOU- What a fantastic product.

I experienced nerve damage in my neck and the patch offered relief from the chronic pain and muscle spasms. I also used them after an injury to my hip and experienced relief and healing. These patches are a game changer. The healing powder is amazing. I shared them with my friend that had a knee replacement.

I use these patches regularly for aches and pains associated with my winter paddle sport activity!

The best recovery patches ever!

I run marathons and ultra-marathons and these patches have been life changing. My shin splints started hurting a bit during mile 78 of my 100 miler and after a few minutes, the pain was gone. I have been using it for more than a year and I would recommend it to everyone.

I have been using Staminapro patches for a few years. As I age, aches and pains appear. Staminapro patches, along with chiropractic care and yoga help them to disappear.

I use these on my hips and hamstrings on my back-to-back long run days (20+ miles each day). I can definitely tell a difference.

Another satisfied customer

This patch is amazing! I have one on my arthritic ankle, knee and hip. Keeps me pain free for 48 hours! Even showed my Orthapedic Dr.

The patches help with back pain by relieving muscle tightness. I find if I put the patches on the night before doing strenuous exercises, I get the most relief.