For PERFORMANCE apply the patches 15-30 minutes before you begin a physical activity, and continue to wear them throughout the duration of the activity. Use daily for optimal results.
For RECOVERY apply the patches immediately after activity and wear for up to 24 hours, upon which you will need to replace the patches with fresh set. Use daily for optimal results.
For ACUTE OR CHRONIC PAIN start with 2-3 patches to reset the inflammatory process (you may use more if necessary). Repeat daily for up to 10 days, then add or remove as you feel needed.
The patches can be worn anywhere on the body, but they are especially effective on: Arms, Lower Back, Elbows, Shoulders, Feet, Ankles, Hamstrings, and Mid-to-Upper Back.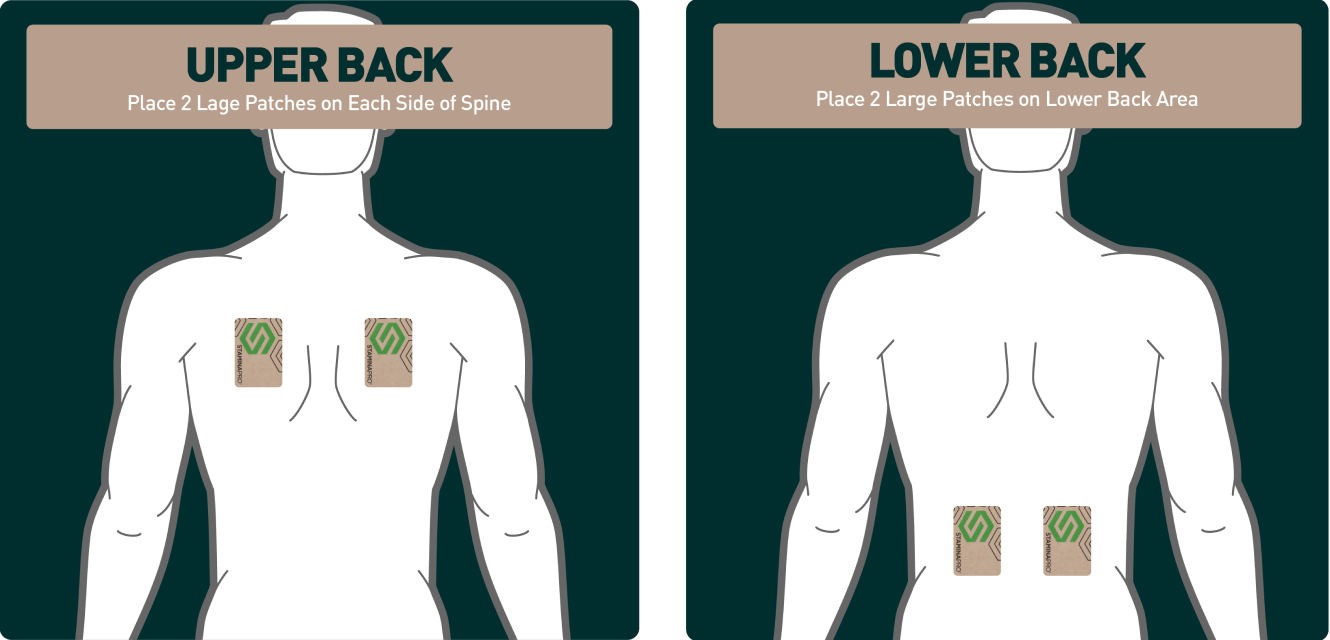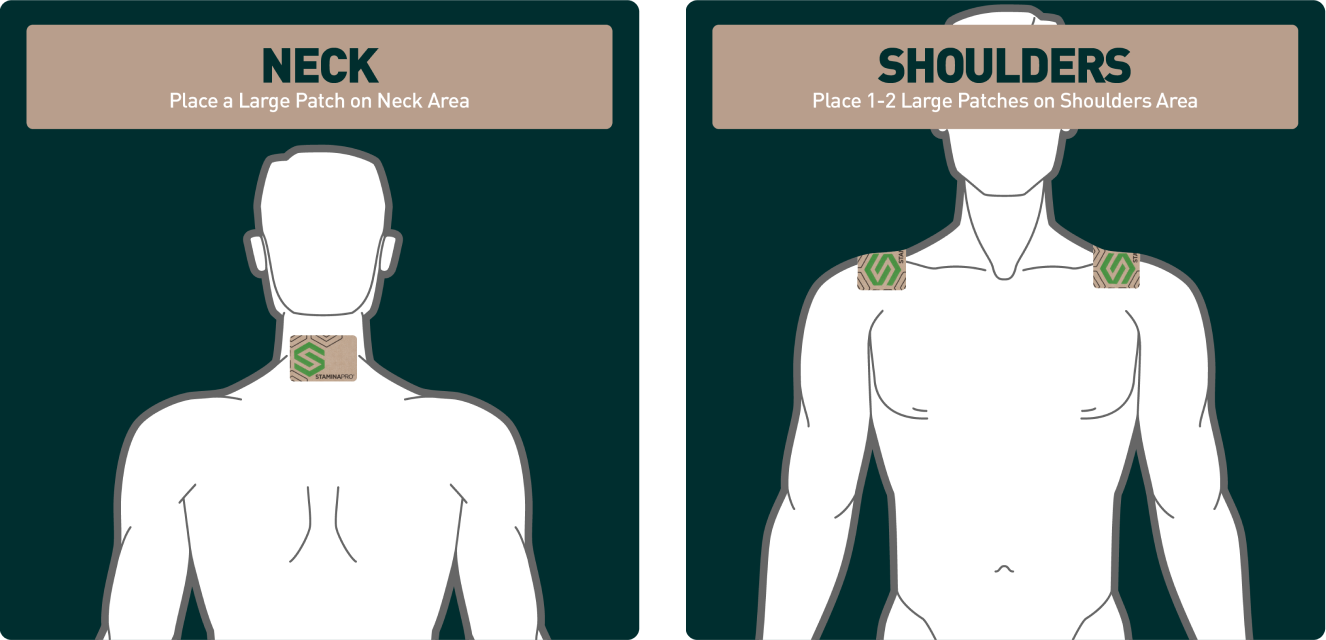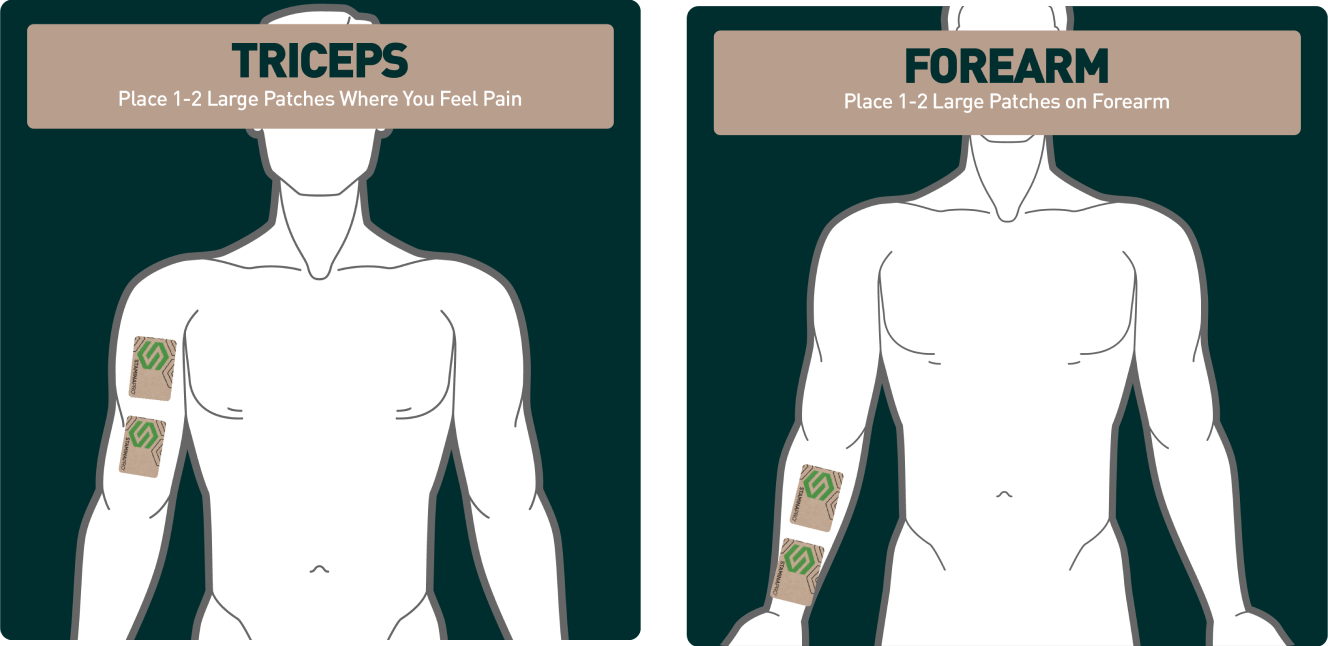 Muscle Fatigue
Muscle Tightness
Muscle Soreness
Strains & Sprains
Bruises & Swelling
Achy Joints
Muscle Cramps
General Pain & Discomfort
No

Chemicals

Faster

Recovery

Better

Recovery
Lasts 24 Hours

100% Natural

Water Resistant
Great product. Need to supply bigger patches for cleaning adhesive.

Stamina Pro large patches

These not only diminish back pain while p[aying golf but I'm less stiff the next morning

Got a couple from my neighbor and now a customer for life. Haven't had anything work this great ever. Boyfriend cannot do without them. Going to get a subscription so we never run out.

Seem to reduce pain and inflammation often more than a day.

Golfers elbow solved. Patches work great.

I've tried everything on the market today. Nothing, and I repeat nothing, beats STAMINAPRO! Give it try today. You have nothing to lose but your pain and discomfort! 5 Stars ⭐⭐⭐⭐⭐

Works great to relieve pain!

I have very bad arthritic knees. Braces are too cumbersome and I have tried pain patches, sprays, roll, Nano-Tech patches nothing works like STAMINAPRO. Besides my knees I have a C6&C7 issue and the tightness and daily fatigue in my right trapeze is also helps when playing my tennis. THANK YOU STAMINAPRO

I can always count on it!